Hardwood Slabs for Kitchen Countertops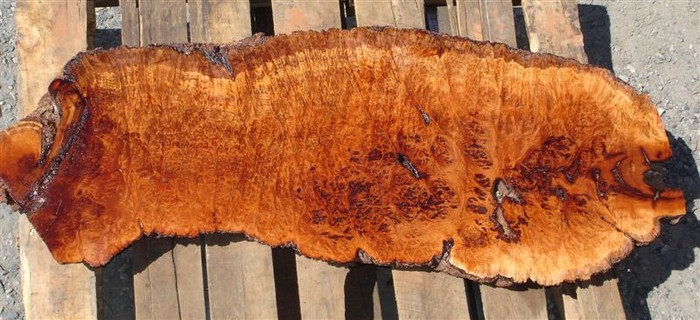 Have you ever considered a solid hardwood slab for a counter or kitchen island top?
Stone, whether it is Granite, Marble, or Quartz are typical popular choices when selecting kitchen countertops. In addition, people have begun to rediscover wood countertops, especially those featuring hardwood slabs. With exotic names like Bubinga, Amazakoue, and Sipo Mahogany, hardwood slabs can add a distinctive style and look to a kitchen. Colors suit a variety of tastes – from a rich mahogany brown to burgundy red and salmon pink to bright orange.
The ability to introduce wood to a kitchen can span a wide spectrum of tastes from traditional to contemporary. Using a wood such as Zebrawood can add an edgy and contemporary style, while Mahogany is timeless in both traditional and contemporary design.
Natural edge slabs are particularly popular, with many preferring the natural state of hardwood, after all that is what separates us all and gives us each our own unique qualities.
Are Hardwood Slabs Sustainable?
Thinking green? These hardwoods are harvested following strict reforestation guide lines and innovations on tracking and monitoring careful harvesting. This ensures that all of our hardwood slabs are obtained in a sustainable manner. With the introduction of environmentally friendly, non-toxic and highly durable finishes, even the finishing of hardwood countertops can be green while protecting the surface from everyday wear and tear.
Next time your looking for an alternative option to what is commonly found in most home improvement projects – look at hardwood slabs.
What Woods Do We Carry in Hardwood Slabs?
The wood species we have are constantly changing. In general, we typically have over 40 different hardwoods available in hardwood slabs, with many separate slabs for each wood species. We typically carry American hardwoods such as ash, maple, cherry, and walnut. We also often have exotic woods such as sapele, African mahogany, African padauk, jatoba, zebrawood, and purple heart. There are usually a variety of pieces with unique wood grain as well.