Cormark International – Importers of Fine Exotic Hardwoods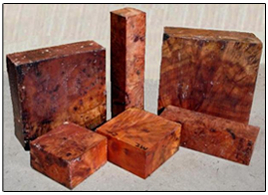 We are a 27 year old South African based, family owned business with strong ties in the African lumber industry. We supply national chains, hardwood lumber stores and catalog companies with exotic hardwoods as lumber, logs, slabs, veneers, and related products. We stock high-demand species such as Kiaat, Ebony, Mahogany, Teak, Rosewood, and Merbau. We're continually looking for "new & unusual" species to offer, from African Olivewood to Pink Ivory and Zebrawood. Due to our flexibility and industry contacts we are able to source most exotic and domestic woods (see our Species List) and offer them to you at competitive prices.
We offer an ever-expanding line of retail products and finished items, including woodturning blanks for pens, wine stoppers and pepper mills, chef's quality hardwood cutting boards, plus thin stock, dowels, dimension stock, slabs, and one-of-a-kind pieces for all woodworking and woodturning enthusiasts.
Sustainability and sound reforestation programs are the key factor to our organization. We have a strong commitment to the environmental issues that face our industry and will only purchase from reputable and environmentally sound saw milling groups. We have through the years managed to build up long lasting relationships with saw milling groups that have a strong environmental, social and humanitarian obligation to the areas and communities they work in.
Our warehouse is located in Weaverville [near Asheville], North Carolina where we import various African, South American & South Pacific hardwoods and related products which we process either at our mills / manufacturing plants in South Africa or Asheville for wholesale and retail distribution.