How Does Purple Heart Wood Change Color?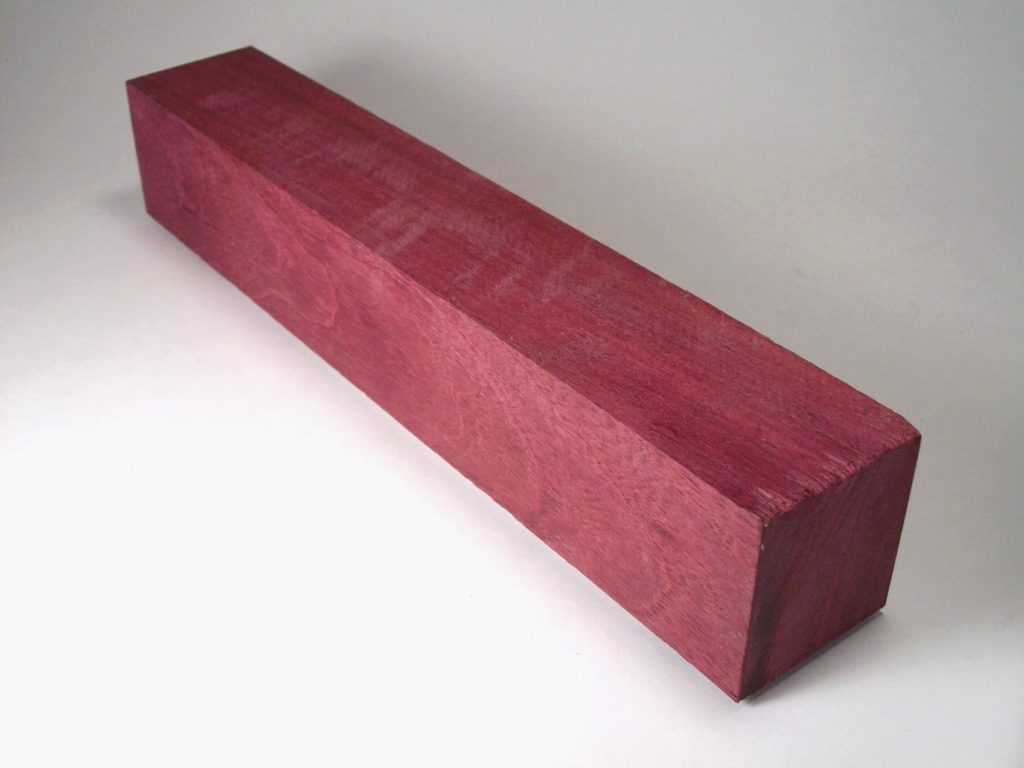 Purple Heart wood is a worldwide favorite for many woodworkers due to its deep purple color. It's a favorite here at Cormark International too. Purple Heart's unique color and characteristics make it an enjoyable wood to work with.
So, why is Purple Heart purple?
The pigments in Purple Heart are triggered by exposure. Most experts agree there are two main causes for the color transformation that occurs in Purple Heart wood – – oxidation (exposure to air) and UV (ultraviolet light) exposure. Freshly cut Purple Heart slabs can appear a dull gray or brown color. It turns purple upon exposure to air and light pretty quickly too. After just a few short days of exposure to air and light, the color change is abrupt. A Purple Heart project exposed to air and light will darken to a dark brown over time if kept indoors. An exterior Purple Heart project will age to a silver color, just like most other woods exposed to the outdoor elements.
What kind of wood is Purple Heart?
Purple Heart wood has over 20 documented species within Peltogyne genus. Purple Heart trees grow from 100′ to 170′ tall, with trunk diameters up to 4′. It is not a threatened wood. It is found throughout Central and South America, ranging from southeastern Brazil to Costa Rica. Most species grow in the Amazon basin. The wood from each species is so similar in appearance to one another that the industry accepts them all to be allocated and distributed as one. Purple Heart is colloquially known by quite a few names, depending on the language. These include: amaranth, violetwood, tananeo, saka, koroboreli, pau roxo, and morado.
What are the Woodworking Characteristics of Purple Heart?
Purple Heart wood is one of the hardiest and most sturdy woods in the world. It is extremely dense and watertight and also very resistant to decay and to attack by fungi, termites, and other insects. The grain is typically straight but some material may exhibit a particularly interesting roey or curly grain pattern on quarter sawn surfaces. The wood is hard, heavy and can be pretty rough on tools. Sometimes it may be difficult to work due to hardness and a tendency to splinter when routing. If your project calls for screws in the joinery, we recommend pre-drilling the holes. On the upside, purple heart turns cleanly with sharp tools, glues easily, polishes well, and brings a particular wow factor to the finished project.
What is the Best Way to Finish Purple Heart?
Finishing Purple Heart can be a dance of getting it to just the right amount of purple and then finishing it before it can change too much. To finish Purple Heart, use only film-building finishes, and apply several coats to minimize oxidation. Most film-building finishes slow—but don't halt—the oxidation process. Apply waterborne finishes to darken the wood less than oil-based finishes. If you prefer oil-based, consider one with a UV inhibitor. Some expensive, marine-grade finishes contain UV inhibitors that will protect a project from the sun's harmful rays for a short time. Otherwise, lacquer and water-based finishes will hold the color longer.
Your best bet though is to keep your projects out of direct sunlight. Most woodworkers recommend keeping the finished furniture pieces with Purple Heart out of direct sunlight, and try to avoid placing it in areas of high light.
Or you can give this a try… one of our woodworking customers offered up their very precise steps for best results:
1) Finish sand your piece.
2) Wet with acetone thoroughly.
3) Set piece in full bright sun.
4) Flip piece every 30 min.
5) Re-wet with acetone each time you flip.
6) Repeat cycle for 3-4 hours.
7) Let piece rest indoors for an additional day or more before finishing (oxidation is continuing).
8) Seal thoroughly with top coat of choice for (mine is lacquer) about 4 coats.
9) Put UV protectant over that (ie spar urethane, to keep your purple color (stops further oxidation).