Bocote Hardwood Slabs – Product Highlight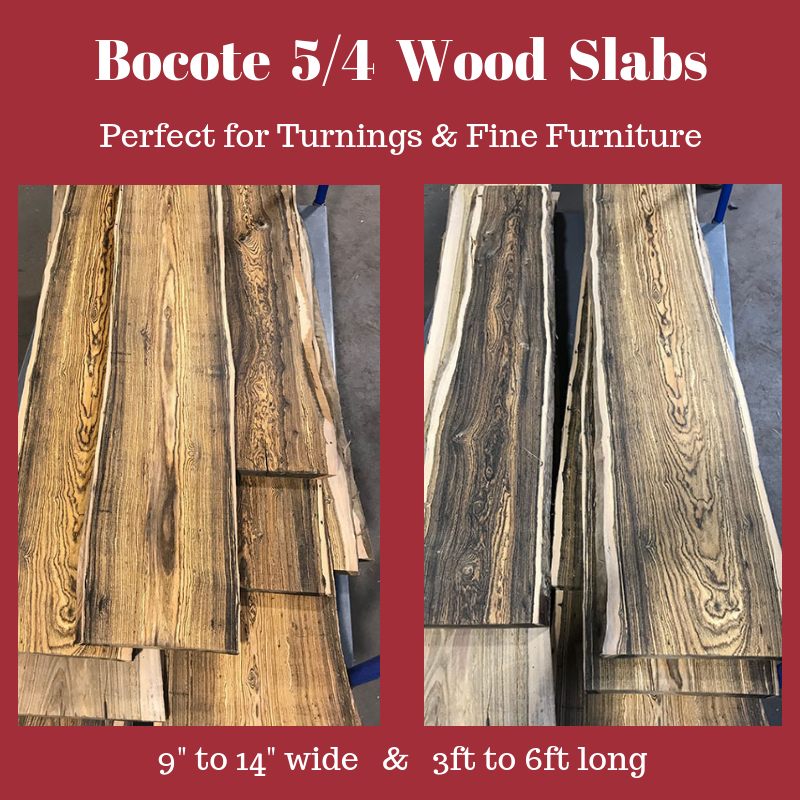 Bocote Hardwood Slabs Perfect for Turning, Fine Furniture and More
Bocote exotic hardwood is a beautiful wood with an interesting color and grain. Cormark is excited to have a variety of new bocote hardwood slabs in inventory. These Bocote slabs range in width from 9 to 14 inches and 3 to 6 feet in length.
Bocote's grain patterning is striking, with irregular brown to almost black streaks, giving the wood an almost striped look. Bocote wood slabs are particularly unique when used to make custom fine furniture and can be used for turning. This dense hard wood can be easily worked and machined. Despite a high amount of natural oils, gluing is usually problem free. These attributes make working with bocote a good experience for woodworkers.
Bocote can be used as a substitute for Cocobolo as is sometimes called Mexican Rosewood. Bocote (Cordia elaeagnoides) primarily grows along the Western coast of Mexico.
Bocote is also listed as an exotic wood tonewood for use in guitars. It is listed as being on the warmer side of the scale tonally, but it does have a nice attack and sustain.
Bocote can be used for custom pool cues, cabinetry, furniture, inlays, knife handles, and pens. Bocote polishes well with wax or polyurethane and will take a moderately high natural gloss.